Token owners need agency [SNIPPET]
Yield Farming needs more agency // Earn $JAMM for subscribing
Starting today, I'm opening up subscriptions for the newsletter via Substack. On September 1st, I'll be moving my newsletter to a new Jamm Session site where subscribers will need 5000 $JAMM in their wallet to access. For the next 3 issues following this one, my posts will be subscriber-only as I transition to a web3-version of the newsletter.
The first 50 subscribers to convert to a paid membership on Substack will receive 5000 $JAMM using the instructions at the bottom of this post. This promotion will run until August 30th and is only available for current unpaid subscribers (Before August 16th).
This migration intends to give myself skin-in-the-game to continue writing the newsletter while expanding the definition of what a web3 subscription might be. I'll distribute rewards to users directly on the newsletter while also bundling the subscription with other means of access. Think of Jamm Session like a digital Loot Crate.
If you want to jam on the future of consumer crypto with some of the smartest folks in the space, join the JammSession Telegram group with 1000 $JAMM.
---
It seems that with every passing day, there is a new network that needs farming. First, it was within a protocol. Then it was aggregating protocols, and then it was between contracts. While we're experimenting with token distributions, we're turning to the point where bad actors will flourish and take advantage of the trend.
In the first two months of the Compound launch, there was a constructive debate on how the Compound network would move forward. Since then, instead of trying to improve Compound as a community, we've only tried to replicate the liquidity mining template across new networks rather than improve Compound. And the same cycle will occur again and again if financial incentives exist.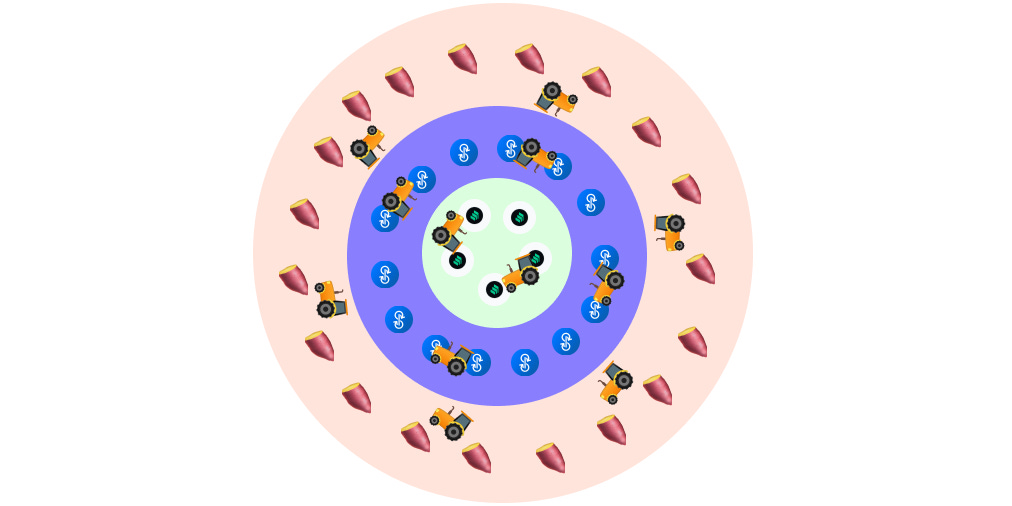 The rise of MMFGs
The gentrification of Ethereum has begun. Ethereum has started to price out new developers from entering the ecosystem who will build sustainable value. We're not making it easier for creators to earn money, or to bank the unbanked. We're just creating Massive Multiplayer Financial Games (MMFG) like $YAM that are zero-sum.
Compared to traditional blockchain games, MMFGs are:
Zero-sum games built on top of positive-sum money market protocols (i.e. Synthetix, Compound). 

Accessible to anyone - anyone can participate in any interface that they like

Fair and transparent - Anyone can add new rules to an MMFG by creating a new market (like this prediction market for $YAM). Imagine if someone deployed a simple contract that mints a new token $HAM for burning $YAM.
The demand for MMFGs will outweigh the benefits of participating in an existing network and even accelerate as more contracts launch and more forks occur. MMFGs will continue until we have 1) more positive-sum networks who are solving real problems (TheGraph, Livepeer, Ceramic, Filecoin) and 2) agency for users.
In MMFGs, every user is treated the same to the eyes of a  specific contract. Users have no incentive to participate, aside from potentially earning more of the supply. But what if a user's transaction history had some benefit to the work they were doing inside of cryptonetworks? Perhaps users will have more agency to do more work inside of these networks.
There are a few ways that an issuer could reward transaction history. One way is by transferring liquidity from an existing competitor.
Another is by weighing a current subjective reputation score across a set of whitelisted protocols. In this scenario, the issuer wants to increase the LTV of an existing token holder on the network. By making it harder to acquire tokens through work on other networks, issuers can be more reliably predict how token holders would act.
We need to start experimenting with reputation if we're going to build sustainable cryptonetworks.
Redeem for $JAMM